Can I become a Yoga Teacher Online?
Posted on: 27 September, 2020
Can I become a Yoga Teacher Online?
Is online Yoga Teacher Training right for you? Through the lens of over 14 years of experience training Yoga Teachers, we look at some of the pros and cons of becoming a Yoga Teacher online.
The rise of Online Yoga Teacher Training
Although online Yoga Teacher Training has been around for a while now, its popularity has sky-rocketed in recent months since the Covid-19 pandemic shook through the world and put a halt to international, and even local, travel. As well as restrictions in travel a big factor in this increase in popularity was the announcement from most of the Yoga Certification bodies, like Yoga Alliance and Yoga Alliance Professionals, that they would now recognise online training certificates and register Yoga Teachers who completed their training online.
Of course, with this increase in popularity, there has been a similar increase in the number of online Yoga Teacher Trainings on the market. Lots of yoga schools and teachers have been unable to deliver their in-person trainings due to the pandemic and have now taken to technology to connect with their students. At the moment it's easier to find online Yoga Teacher Trainings than it is finding in-person trainings, which can make it tricky to decide whether it's better to jump into an online training now or to wait until it's possible to complete an immersive training in person.
In this post, we're going to highlight some of our key insights into the differences we've found between online and in-person Yoga Teacher Training to help you decide which option is right for you?
When we started planning to put our Yoga Teacher Training online one of our deal-breaker objectives was that the online version of the training shouldn't lose anything from the in-person programme. Although we do truly believe that we've fulfilled that objective, based on feedback and learning outcomes from over 200 online students, we've seen that there are some differences between the two approaches that have naturally arisen. Technology, for example, is a huge differentiator, where on our immersive training we actively encourage a digital detox, during our online training our students have had to embrace their laptops and phone to be able to learn and connect with our teachers.
We've also seen some elements of online training that are surprisingly similar to in-person immersive training. We've been blown away by the connections our teachers have been able to form with our online Yoga Teacher Training students, and it's been amazing to see the friendships that have grown between students through interacting in our community forums. 
We've been blown away by the connections our teachers have been able to form with their Online Yoga Teacher Trainings students, and it's been amazing to see the friendships that have grown between students through interacting in community forums.
Generally speaking the 200 hour Yoga Teacher Training course curriculum should be the same for both online and in-person training. The minimum standard for curriculums is set by the yoga certification bodies such as Yoga Alliance, and to be eligible to offer a certificate that can be registered with the certification body, the curriculum needs to be the same for an online training as it is for in-person or immersive training. Course materials and manuals are usually the same although you may find that you have more class notes and supporting documentation for online training. We've found that it's a nice feature to give separate downloadable notes specific to each individual class that students can access in real time.
One thing we do recommend when choosing an Online Yoga Teacher Training is to check that the school is offering at least the same curriculum and class hours as their in-person training. Check too that you can maintain access to training lectures and classes after your training and graduation is completed and also, check that you receive the same full teacher training manual when you sign up, as these are definitely a valuable resource to refer back to, even once you're a Yoga Teacher.
It's also a good idea to understand what support you will get once your Yoga Teacher Training is finished. Any well established Yoga School should have a place for their alumni that supports their graduates after the training is finished. We love seeing graduates sharing ideas and questions with us and their peers in our graduate groups, and support from these communities really helps them to develop as Yoga Teachers, especially in the early stages.
Did you know that across the board over 80% of people who take an online course don't finish it? That's because to complete any training online requires your own self-discipline and self-motivation. On any Yoga Alliance certified Online Yoga Teacher Training there will be homework, assessments, and videos of your teaching to submit which all require hard work and dedication to complete on time. When deciding if you want to become a Yoga Teacher online, it's important to first ask if this at-home based self-learning is right for you. If not then perhaps a one-month immersive, ashram style training is a better option for you.
That said any good online Yoga Teacher Training should give you plenty of structure, support, and access to teachers to help you every step of the way. After starting our online programme we soon decided that each group should have access to a weekly live check-in with our team to answer any questions they have about the course, or even just yoga in general.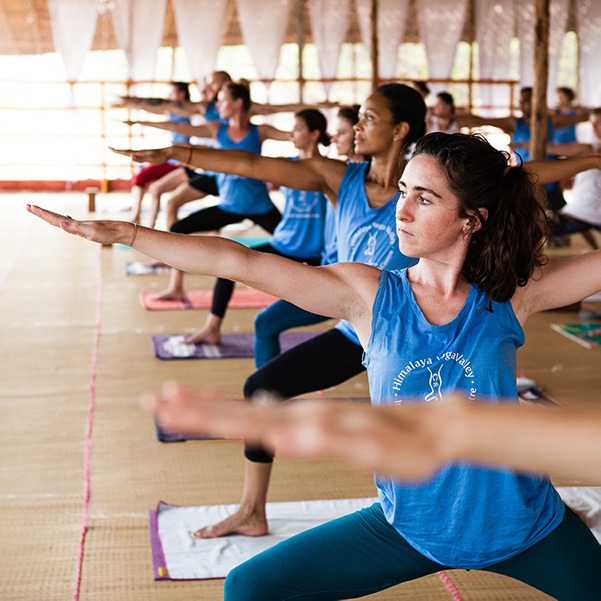 Probably the most obvious difference between Online Teacher Training and in-person is the location. Whereas more commonly Yoga Teacher Trainings are held either on location at a Yoga Centre or at smaller Yoga Studios, now the option to study online means you can complete your training from wherever in the world you are. Online Yoga Teacher Training is also usually more flexible and allows students to manage their studies around their daily life.
If you're not sure which training approach best suits your lifestyle then start by asking yourself…'Am I able to take four weeks away from everything to complete my yoga teacher training?'. If you are, and you love traveling, then definitely consider training at a Yoga Centre in India where you can immersive yourself in your studies and practice at the source of yoga. But if this simply isn't possible for you then don't let it stop you from following your dream of becoming a Yoga Teacher. Online Yoga Teacher Training is a great option that lets you manage your studies around your daily life and commitments.
"I am a single mom and it would be quite impossible for me to spend 1 month in Goa, but this online training made my dream of being a Yoga Teacher a reality."
If you are, you're not the only one. It took me and our entire teaching team some time to adjust and adapt to teaching entirely using technology. Some people just seem to get it and can pick up any device or navigate any online platform, and for others, it can be frustrating.
The nature of studying online does mean that there is a lot of technology involved. There's the little things like logging in, asking questions to your teacher through Zoom and engaging with your peers through community forums. And online Yoga Teacher Training should also require you to submit video assessments of your teaching, which means setting up to film yourself then editing and uploading videos, or sometimes presenting live assessments to your teachers.
If all of this is making you feel dizzy just thinking about, then perhaps an in-person training is a better option for you. It seems like such a simple thing but definitely worth bearing in mind when you're considering whether online Yoga Teacher Training will suit you.
It seems to be like human nature to compare ourselves to others. In yoga, this is something that we try to understand and overcome because it holds us back from not just being able to love ourselves for who we truly are but also from our highest potential. There's a reason why you often hear things like 'focus on your own practice' or 'just be on your mat' during yoga classes, it's because we've all found ourselves comparing our practice to others at some point.
One of the great things about Online Yoga Teacher Training is that, during your asana classes, it's just you and your teacher and no one around to compare yourself to. If you're an introverted person or find that you can be self-critical then studying online and self-study can actually really boost your confidence in your practice. 
One of the great things about Online Yoga Teacher Training is that, during your asana classes, it's just you and your teacher and no one around to compare yourself to.
During a Yoga Teacher Training students form great friendships and connections that last for life. It's because you've shared a very unique experience and been through so much together, often literally sweat and tears.
Something we think is very important for a good online Yoga Teacher Training is that it keeps space for students to build those connections and feel that sense of community, even just to have a place to go to engage with your fellow students and teachers.
As a teaching team we've been so happy watching these friendships build through each training's own Community Forum. We've seen students organising study groups, group asana practices and of course YTT WhatsApp groups. So when you're choosing a Yoga Teacher Training online make sure there is a strong focus on community because it's a big part of what makes Yoga Teacher Training great.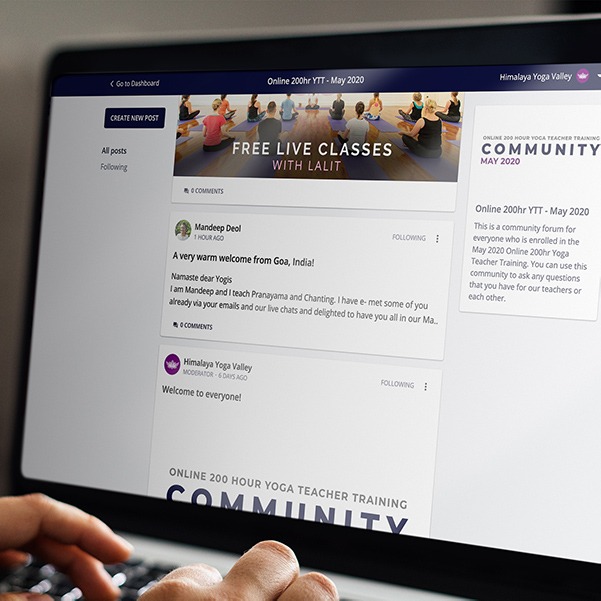 Another great thing about online Yoga Teacher Training is that it's often a cheaper option. Because costs are lower to run a training online schools are able to offer them as a cheaper option. Logistically it can be more economical for a yoga school to deliver an online teacher training and pass the financial benefit onto the enrolment fee.
The length of online training also means that you can sometimes pay by monthly installments which makes the course fee more manageable, and studying from home means that there are no travel costs associated with your trainings. So if affordability is a big factor in your consideration then becoming a yoga teacher online is the most affordable way to get started on your new career.
The demand for online Yoga Teacher Training is likely to continue growing, and as it does it will only become harder to decide if it's the right option for your lifestyle. Carefully consider all of the points above and you will come to the right conclusion for what sits easily with you in your heart and in your head.
Ultimately, becoming a Yoga Teacher will be one of the best decisions you'll ever make and will change your life for the better in so many ways, and it's amazing to live in a world where you now have the option to make that change online. Whether you decide to complete your Yoga Teacher Training online or in-person, making the decision to follow your dream and do it is the first real step and all that matters. CARPE DIEM.
Does it feel like Online Yoga Teacher Training is right for you?
Are you ready to get started? Find out everything you need to know about our 200 hour Online Yoga Teacher Training and when you can join our team for the next course.