Himalaya Yoga Valley Cork
Himalaya Yoga Valley Cork, one of the largest yoga studios in the country, is located in Cork City, Ireland. Cork is a proud city of approximately 150,000 people that sits on the River Lee at the head of Cork Harbour, the second biggest natural harbour in the world. Cork is a historic, creative, exciting, ever-changing city, home to some of Ireland's best restaurants, traditional music and culture and beautiful architecture.
The surrounding Cork County is one of Ireland's most beautiful destinations and is arguably the best foodie scene in the country.  Many places are easily accessible for day trips from Cork, including the picturesque seaside town of Kinsale (30 minutes by bus) and other well known spots such as Blarney, Cobh and Killarney and a great location to start a journey along the famous Wild Atlantic Way route.
Our Yoga Teacher Trainings in Ireland is the best in Europe
Our Centre
Our centre in Ireland operates year-round, offering daily classes, workshops and other events in addition to our Summer 200 and 500 Hr Teacher Training program.
Our studio has a thriving membership and has become a hub for Ashtanga and yoga education in Europe. Director Yogacharya Lalit Kumar teaches in Ireland between April to October, he leads workshops, teaches both masterclasses and daily classes, and practices with the teaching team on a professional development basis during this time. Many graduates and yogis travel to Ireland to study with Lalit during the summer months and great learning takes place during this time!
All of the teachers at Himalaya Yoga Valley Cork are graduates of our TTC program and trained to the highest standards by Lalit and his team. Our staff in Ireland are honoured to carry on the ancient lineage of the Himalayas. Our aim is to deliver these traditional teachings in a modern, friendly setting where everybody is welcome. To learn more about our Cork Centre, or to book classes and workshops, please visit www.yogacorkireland.com
Yoga Teacher Training in Ireland
Our 200 Hour Yoga teacher training takes place over one month in July/August each year in Cork City, led by expert teacher Yogacharya Lalit Kumar and his specialist teaching team. Completing our Yoga teacher training in Ireland is a great opportunity for those who wish to access a traditional training in an inspiring location closer to home. Our one month training is accredited to the highest international standards and is one of the most affordable yoga teacher training courses in Europe. For detailed information on our training please see our Teacher Training page.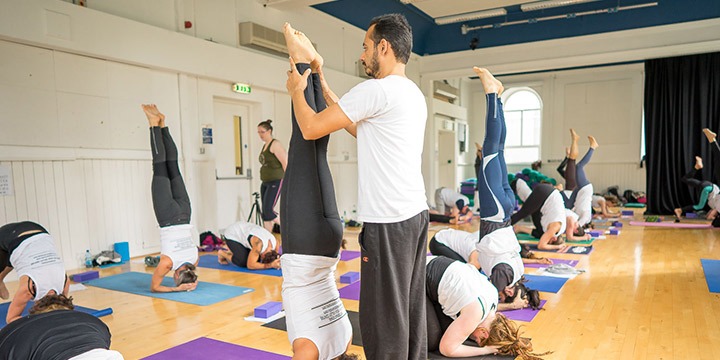 Our 200hr training is non-residential, with many students taking advantage of the very affordable student residences available during the summer. We will provide information in regard to obtaining accommodation and also travel information for approved trainees.
Community Initiatives
We are committed to giving back to each community we operate in, and Himalaya Yoga Valley Centre Cork supports the fundraising efforts of the Cork Simon Community and Pieta House through our Yoga in the Park program in the summer months and other various fundraising efforts that benefit community causes. To date we have raised almost €80,000 to help fund community mental health and to help fight homelessness in Cork City. We also provide complimentary yoga classes as a way to support staff and volunteers of Cork Simon in continuing their excellent work.
Himalaya Yoga Valley Cork are always open to proposals from any parties interested in bettering our community through yoga. Please get in touch if you have a project you would like us to be involved with.