Level 2 – 300 Hour Advanced Yoga Teacher Training
Himalaya Yoga Valley's Level 2, 300-Hour Yoga Teacher Training is regarded to be one of the most comprehensive yoga education experiences in the field. This course has been crafted by teachers, for teachers- helping you transform, grow and develop your teaching skills and your own physical and spiritual practise.
Take your teaching, knowledge, and career to the next level under the guidance of our expert team who have developed this program to help graduates of 200-hour programs to elevate their knowledge and skills in a tangible and deliverable way to their own students.
We give so much as teachers, and a 300-hour TTC is your opportunity to become an aspirant and seeker again in our shalla! Dive deep into your yoga under the guidance of Yogacharya Lalit, and learn level two methods and techniques to bridge gaps and open paths to new possibilities within your practise. And most importantly- learn how to transfer these methods to your own students.
Align your own growth, with that of your future students, and expand your professional skills with growth-driven, inclusive, accessible methodology derived from Lalit's rich lineage, combining dynamic yoga with the refined and precise alignment techniques that support therapeutic outcomes.
Off the mat, take your knowledge of core subjects such as Anatomy, Philosophy, Ayurveda, Sequencing, and Pranayama to new heights and develop a refined awareness of the tools and methods necessary to grow and ignite your offline and online yoga business in a fast-evolving space.
Who should attend the course?
Our 300 Hour training is an all-encompassing program. This course is suitable for teachers who have been teaching to the public who wish to enrich their practical and theoretical body of knowledge and also a great reintroduction to teaching immersion for those who have completed a 200 Hour TTC but require extra coaching to take the step to become a more confident teacher.
Our 300 Hour course is a comprehensive course suitable for you if you are looking to:
Develop your personal practice in a traditional setting with a strong focus on personal development
Grow yourself as a teacher and build a deeper understanding of asanas, alignment, adjustment, customizing sequences, and classroom design
Gain in-depth exposure and knowledge around practical and theoretical methodology pertaining to yoga
Beyond your growing your personal knowledge, diversify your knowledge beyond asana to classroom management, learning to handle a diverse range of students, business skills, and soft skills
Refine and strengthen your teacher communication skills
Our Curriculum
Our 300 Hour Curriculum has been designed around three pillars
Deepen and refine your personal practise
Elevate and upgrade your teaching and business skills
Grow and expand your academic and practical knowledge
Our Teaching Style
Our 300 Hour course sequence is derived from Ashtanga Vinyasa Flow Yoga as per Lalits Mysore background. It is equally rooted in the fundamental principles of integrity of alignment, as per Lalit's Iyengar background. Students can expect to practise a dynamic vinyasa flow sequence, that is orientated towards unlocking practise with precise and refined alignment techniques.
Our 300 Hour Yoga Teacher Training sequence is in the main, Ashtanga Vinyasa inspired with Iyengar alignment techniques, however, we are agnostic in our approach and believe that the student comes before the sequence. Therefore, Lalit will incorporate methods, drills, tools and props designed to speak to the individuals' needs and the collective class progression.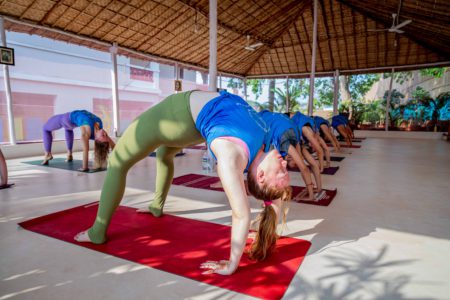 Developing your personal practice and teaching skills
Daily Chanting, Pranayama and Meditation, and Asana classes
Asana Clinics, Workshops and Masterclasses
Alignment and physical adjustment techniques
Sequencing for the everyday classroom and therapeutically
Classroom management and communication
Typical Daily Schedule
| | |
| --- | --- |
| 6:30am | Asana Practise |
| 8:20am | Chanting Pranayama Meditation |
| 9:30am | Break Reflective Journal Writing |
| 10:00am | Breakfast Break |
| 11:00am | Lecturing Philosophy/Anatomy/Ayurveda |
| 1:00pm | Lunch Break |
| 3:00pm | Workshops on Adjustment Alignment sequencing |
| 4:15pm | Break |
| 4:30pm | Yoga Asana Practice |
Certification
On completion of the additional 300 hours of the Level 2 Teacher Training, you are Certified by Himalaya Yoga Valley as a Level 2 500 Hour Yoga Teacher to teach globally. They can register with any of our associated Yoga Alliances for Registered Yoga Teacher (RYS) 500 – Yoga Alliance Professionals UK, Yoga Alliance USA and Canadian Yoga Alliance, Indian Yoga Association.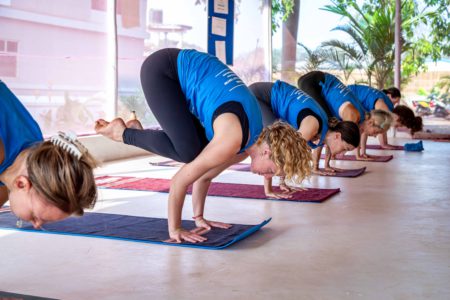 Outline of our 300 Hour Yoga Teacher Training Syllabus
Personal Practise Development
Lalit will use workshops, classes and clinics to help students progress in the following areas both in their personal practise and their ability to absorb these teachings for sequencing purposes in their own classrooms. Himalaya Yoga Valley teachers are skilled at adjusting yoga to meet the student, rather than the student to meet the yoga- we will work collectively as a group to deepen individual practise, however, this is relative to your own practise, your growth and development will be unique to you, and we foster this philosophy from practise through to practicums and beyond.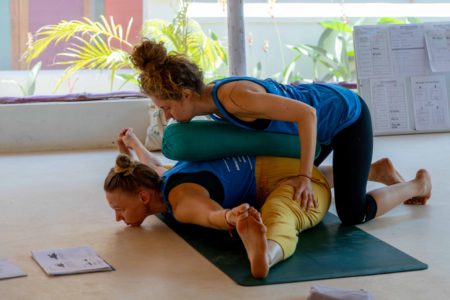 Yogacharya Lalit will guide you in deepening your personal practice using a variety of sequences and asana variations including a series developed for our level 2 training, inspired by Lalits time as a student in Mysore & Pune. The objective is for trainees is to significantly deepen their personal practice and improve their alignment, asana knowledge and connection to their own potential in a non-competitive space.
The daily asana practice will be varied, all classes will include cautions, contraindications, modifications, and alignment, using props and anatomical information to further trainees personal and teaching practice. Trainees will learn from the different families of asana; Arm balancing, backbending, hip opening, twists, inversions.
There is a two-tiered approach to asana on our 300 Hour Training. The first level is geared towards trainees deepening their personal practice and progressing towards a peak relative to their individual constitutions, physical abilities and personal goals. The second tier is dedicated to learning to teach a series of asanas derived from the Ashtanga Vinyāsa Yoga Series complimented by Iyengar alignment techniques.
Areas of Practise Focus 
Arm Balancing
Inversions
Core Strength
Vinyasa Methodology
Back bending and heart opening
Hip and Hamstrings
Props, drills, and workarounds for advancing your asana
Teaching Development
Growing as a teacher 
Workshop development and sequencing
Asana Level II Alignment & Adjustment Techniques
Develop the understanding and their teaching skills around common misalignments, correct alignment, physical, verbal adjustments, and the application of physical and verbal cues to guide their future students
General Sequencing and themed class creation
Sequencing for the systems- learn to sequence classes for health optimization through structuring asana classes around yoga for the systems of the body- e.g, yoga for the cardiac system, yoga for the endocrine system, yoga for the immune system
Bandhas
Preventing Injuries
Meditation, Chanting & Chakras:
Dhyana is explored further and practiced at deeper level beyond basics.
Some other advanced techniques for Meditation.
Deeper understanding and daily chanting of Mantras.
Explore and understand the Chakras in relation to the physiological systems.
Pranayama, Kriyas & Mudra:
In this advanced 300 training, trainees learn advanced pranayama techniques to build upon those already in hand.
Dive deeper into contraindications, benefits, and build on your personal practice
Mudras for health
Explore All the Kriyas- Sat-kriyas
Philosophy:
Deepening of the 200 hr subjects further exploring the sutras and Swami Veda's teachings.
Trainees to compare Patanjali's 8 limbs to other significant Yogic texts; Upanishads, Bhagavad Gita and Hatha Yoga Pradipika.
Deeper understanding of Liberation, purpose of Yoga.
Explore more Sutras
Personal Inquiry with text like Bhagwad Gita, Patanjali Sutras, Ramdass workbook – Path of Love
Anatomy:
Dive deep with Adam the body web; tensegrity; foundations; Knee mechanics; Hips – the keystone of our architecture; Yoga and Spinal mechanics; the Ribcage and breathing and Emotional Anatomy
Understand Body Mechanics deeper, get to apply the knowledge
The teaching style is aimed at making anatomy relevant to yoga teachers for application to their wide variety of student unique body types, presenting injuries, injury prevention, muscular and joint relief, postural improvement and identify and prescribe various asana to improve strength and flexibility
Ayurveda:
Learn the Ayurvedic approach to a living a balanced lifestyle
In-depth understanding of three Doshas – Vata, Pitta, Kapha
In-depth learning of three Gunas – Rajas, Tamas, Sattva
Ayurveda & diet, nutritions
Student & Classroom Management
Classroom Management
Building effective communication with students
Communication skills- Trainees develop a heightened awareness about the criticality for yoga teachers to possess effective verbal and non-verbal communication skills in order to educate, coach, energise, motivate and develop their students
Sequencing for Online and Offline Classes
Build a suite of targeted sequences for group/individual classes.
Teaching inclusively and reaching minority groups.
Sequencing for offline and online classes: live and recorded content.
Short sequence development.
How to approach the creation of workshops, retreats, open air, offline and online classes.
Yoga Business skills:
Hands-on and practical classes based on the modern yogis business needs
Trainees gain a working understanding of the key concepts of Strategic Business Planning required for developing a sustainable yoga business.
Digital Marketing fundamentals- social media platforms, content creation, app and web development
Understanding the key principles of developing a marketing plan and lead generation strategy that works for you passively so you can focus on teaching
Setting up and developing your online presence.
Marketing and linking and your social media streams.
Networking and collaboration
Demographics and reaching your target audience(s).
Technology for Online Success: Setting up, lighting, tools.
Yoga Ethics:
Appropriation vs Appreciation in Yoga- finding and honoring roots in a modern day setting
Ethical Yoga Business application- seva, community over competition, and ethical growth
The media of yoga- social, print and digital influences on our culture. Becoming influenced by Ahimsa
Race, diversity, ableism and inclusivity in Yoga- dissecting the modern culture of exclusion in yoga and finding a path to becoming truly inclusive as teachers and communities
Teaching Series
Through the teaching series of 52 Asana, trainees increase awareness of adjusting postures they teach to suit the individual needs of their future students. Furthermore, trainees will gain an understanding of how to modify postures within a variety of asana series inspired by and derived from the Ashtanga Primary Series, as well as learn building blocks on how to assist students in being able to systematically improve various postures through the use of modifications and props.
---
Asana Alignment Techniques
A necessary requirement for any yoga teacher to be a safe, confident and credible teacher is to be able to visually assess their students' alignment during classes and be able to offer them physical and verbal adjusting cues to rectify common misalignments, prevent injury and increase therapeutic, energetic and physical benefits of the postures. During the 300 Hour yoga teacher training, through a hands-on approach, trainees will continue to develop their understanding and their teaching skills around common misalignments, correct alignment and the application of physical and verbal cues to guide their future students. In line with traditional yoga, trainees will learn to apply the use of modifications in asana and use of props in order to assist their students to access depth and correct alignment in their yoga postures. Trainees will learn that alignment is not merely mechanical, but that it is about ensuring quality integration within the body, leading their students to a state of steadiness & ease (sthira and sukha) and a process of refinement creating a stabilising structure.
---
Asana Adjustment Techniques
Understanding the principles of alignment and adjusting is base foundational knowledge learned on 200 hour training, During the 300 Hour Yoga Teacher Training, trainees will further improve their adjusting skills under the guidance of Yogacharya Lalit, using traditional Mysore adjustment techniques to assist trainees in guiding their future students towards deeper expressions of the postures. A strong emphasis is placed on correct alignment as a pre-cursor for enhancements through adjusting. This grows their existing core skills in adjusting and brings trainees to a higher level in physical adjustment techniques for advanced asana based on anatomical and energetic rationale for the 300 hour teaching series.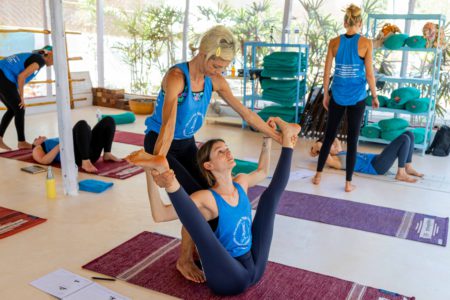 Testimonial- From the moment that I contacted Himalaya Yoga Valley I felt secure and confident that I was going to the right school. Their approach to every little detail was so professional and when departing on my 200Hr for India on my own I knew that I had nothing to fear.  The lectures, meditation and asana practice, Ayurveda, philosophy and anatomy were taught to such a high standard that by the time you have finished the course you are equipped with all the knowledge you need to start teaching with confidence. You meet people from all over the globe and they all become your friends because of the intense bond you share from the time you spend together learning. The Himalaya staff become like your family because of the guidance and love they show you throughout the teaching and when you leave they support you throughout your teaching journey. The 200Hr and the 300Hr training have been the most life changing experiences for me.  Thank you to all at Himalaya Yoga Valley


Angela Rogers- Kaveri Yoga (South Africa) 200 & 300Hr Grad
---
Upcoming 300hr course dates
---
Enrolment Prerequisites
Trainees must have completed a 200 Hour Training Course from a reputable training school and provide references from their previous school.  Himalaya Yoga Valley 200-Hour Graduates are automatically eligible for enrolment in this training. As per our 200 Hour training requirements, trainees will be expected to have a mature outlook, positive attitude and a strong sense of self-discipline and self-determination in relation to their personal practice. 200hr Yoga Teacher Training Certification from a Yoga Alliance Registered Yoga School. A strong desire for learning, the ability to work collaboratively and independently, a passion for yoga that is rooted in the 8 limbs of yoga, and a willingness to receive feedback and coaching. We encourage students with a respect for indigenous practices of yoga, applicable to modern-day settings to apply for this training.