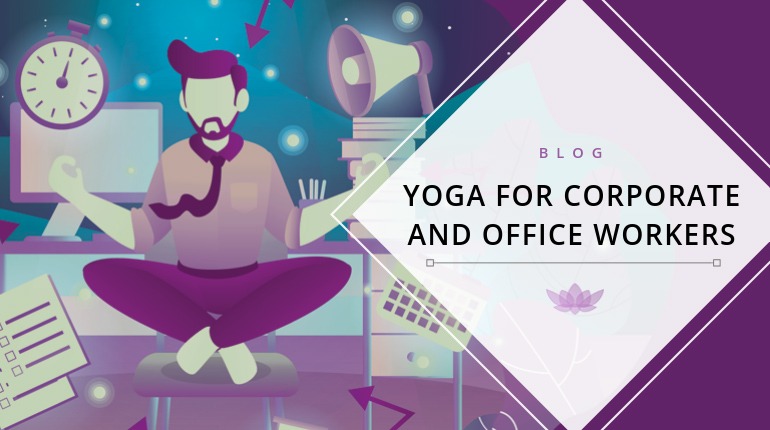 Sickness and disease have no place in the life of a person
who does not accept and tolerate self-limiting thoughts,
which are the real seed of our myriad ailments.
We often stand by the belief that disease and illness are our fate and destiny, rather than health and bliss, which are truly our birthright and heritage.
In order to emerge from this state and experience true health, joy and fulfilment, we must make a systematic application of Yoga in our daily lives.
– Swami Satyananda Saraswati
---
Use the quick links below to navigate this article:
– Introduction
– Modern work life
– What is Yoga?
– A simple sequence that you can try in your workplace?
– How can Yoga be implemented at the corporate level??
– Program implementation
– Conclusion
Introduction
Do you spend most of your days working behind a desk? Do you suffer from back or neck pain and general stiffness? Is it hard for you to find time to be physically more active? Do you feel anxious or frequently stressed while at work?
If you answer 'Yes' to one or more of these questions, Yoga may be able to help you.
To minimize the above problems and to recover your wellness, you don't have to force yourself to start running, enrol in a fancy gym with personal training or join classes that are not suitable for you.
Yoga can be promoted at the workplace and can be practised safely by everyone. A healthy work environment is one in which there is not only an absence of harmful conditions but also awareness and abundance of health-boosting practices and initiatives, where health and health promotion is a priority and an integral part of working life.
It's your duty to perform and deliver positive results at your workplace but it is also your right to be healthy and have an employer supporting you towards this objective.
Modern work life
In today's busy world, many people, especially those working in cities, spend a great part of the day in work-related activities that usually demand sitting for long periods of time, going from meeting to meeting, taking conference calls, driving around or sitting in public transport commuting and travelling, and all of these in one single state: sitting on a chair for long periods of time every day.
A sedentary lifestyle with minimal physical movement both at home and at work is causing a gradual deterioration in bodily functions.
Having high levels of stress due to work pressure or highly competitive work environments is very common nowadays and is seen as the new normal if we want to advance and excel in our careers. This is leading us to overwork, feeling restless, developing sleeping or eating disorders, various forms of anxiety and in more serious cases, depression. According to a survey of 800,000 workers, in over 300 companies, made by the American Institute of Stress in 2006, the number of employees missing days due to 'sickness' or 'unfit' to work due to "stress", tripled from 1996 to 2000.
In the US it is estimated that 1 million workers are absent every day due to stress or stress-related conditions, costing employers about 150 – 250 billion dollars, or 60% of the total cost of worker sickness. This has a hugely negative effect on the company's work environment, staff morale and it also reflects on the bottom line of businesses both in the public and private sector. In the UK in 2013, sick leave under stress related issues cost employers about £29bn and workers took an average of 9.1 days off work, which is higher than the average of 7.1 days across Western Europe. This costs companies, not only loss of production and work output but also the costs associated with sickness absence including the value of time spent on absence management and related healthcare costs.
Stress is a highly personalized phenomenon and can vary widely even in identical situations, for different reasons. As shown in the graphic below, only 28% of stress is caused by personal matters, the other 72% is caused by work related issues such as struggles with work-life balance (20%), job security concerns (6%) and high demand and heavy workload (46%).

Source: stress.org
On the other hand, workers are guilty of presenteeism, showing up to work feeling stressed, frequently being physically or emotionally unwell and trying to figure out ways to carry on with their duties despite their symptoms. Not everyone can call 'call in sick' when they're not visibly sick because of a guilty conscience. Many stressed-out employees show up to work anyway and three out of five say they have lost productivity due to being stressed at the workplace.
Another big threat to human health and office workers is physical inactivity. In Hong Kong 59% of all adults live a sedentary lifestyle, increasing health risks and particularly developing cardiovascular diseases. Only one adult in three do some exercise or perform physical activities at levels considered to offer significant health benefits.
Lack of movement and insufficient physical activity lead to the progressive development of various chronic diseases related to heart health, adding a higher risk of obesity, hypertension, diabetes and strokes as shown in the graph below: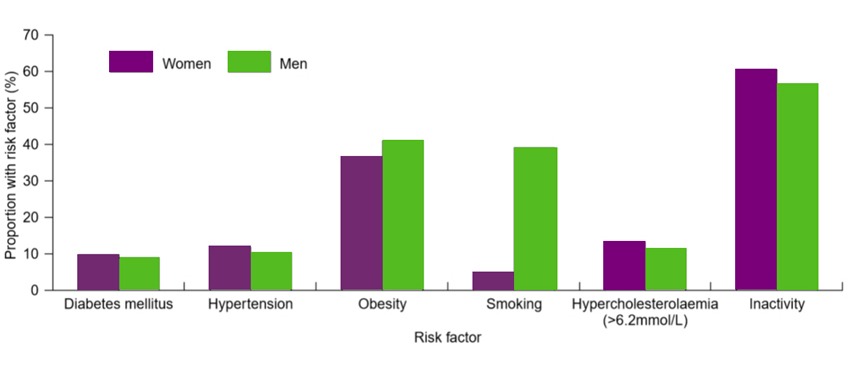 Estimates of the prevalence (percentage of population) with selected risk factors for ischaemic heart disease in Hong Knog (1995-1996)
Degenerative illnesses are rising in the developed world and at the corporate level, not enough resources are mobilised to make sure that the number of able-bodied and mentally sound workers is not shrinking.
Sitting at home and in the office for prolonged hours, reduces blood circulation causing to feel lethargic and prone to develop short-breathing patterns and in consequence a sense of constant fatigue. Days can go on and on without noticing or overlooking the negative side effects that a sedentary daily routine is bringing, not only on the physical aspect, progressively causing deterioration of the health, but also on the mental and emotional side, impacting private, social and work life.
On the corporate level, companies worldwide lose billions of dollars as a result of employees with wellness issues causing reduced productivity, overtime work, staff fatigue, low morale and poor time management.
Companies strive to improve or increase their productivity and labour efficiency. This is directly driven by the employee's performance, ability, professional knowledge, valuable skills and all the potential forces and capabilities embodied in each employee and their performance can be directly impacted by the health and well-being of everyone at the workplace. On the other hand, company's approach to unpaid salaries for absence-related productivity losses is not considered of high impact because traditionally is thought that short-term absences will be compensated with greater effort from the employees or by unpaid self-imposed overtime, while longer-term absences would simply lead to staff replacement and new hires, an approach that neglects the wellbeing and health care of employees who do show up to work.
What is Yoga?
Yoga, as known in the Western world, is a low impact, physical practice that promotes relaxation and stress reduction, brings mobility and improves flexibility. This is true but is more than just physical exercises. Yoga provides a broader approach to the way we live our lives, our behaviour and our approach to ourselves and to the world around us.
A well-rounded and 'all-inclusive' practice of Yoga contributes not only to improve physical condition but also helps us to be emotionally and mentally healthier, more balanced and energetic and takes care of the human body and all its functions, from the process of breathing to elimination.
Yoga can help to remove the root causes of ill health which are brought by inadequate or lack of exercise, insufficient oxygenation of the blood, poor nutrition and poor elimination of our organic waste products that poison the system. Through rhythmic breathing, cultivation of concentration and stimulation of healthy glandular activity through systematic physical practice, Yoga helps to increase the mental capacities and to sharpen the senses; through meditation, we can calm our mind and sensory feelings, coming closer to the realization of our spiritual nature and our inner self. All the bodily systems, from the lymphatic to the digestive to the cardiovascular, every aspect of our bodies from the inside to the outside, benefit from the practice of Yoga.
Yoga practices have positive effects, increasing the blood circulation to different parts of the body, promoting mobility, clearing and restoring the mind, the energy levels, focusing of the mind and boosting the concentration of everyone.
Here's a simple sequence that you can try in your workplace

This sequence of Yoga poses (Asanas) will stretch your muscles, joints and spine. They have a beneficial effect not only your body but also on the internal organs, glands and nerves, keeping all systems healthy.
This practice will help you to reduce stress and revitalize body and mind during your working day and it will only take 10mins to do.
How can Yoga be implemented at the corporate level?
Occupational Health Management (OHM) in the workplace should not be regarded as a waste of working time but as company investment on performance and productivity.
The practice of Yoga within the work environment can bring significant savings to a company, minimizing sick leave rates, presenteeism, absenteeism, mitigating the occurrence of common illnesses and psychological problems at the workplace, bringing awareness to sickness prevention through easy, short and progressive practices.
Current methods to improve employee's health include tobacco-cessation programs, company-sponsored wellness programs, weight-management and weight-loss initiatives, seminars on healthy eating, among others. Yoga offers a holistic approach to health and wellness. Its implementation at the workplace doesn't necessarily require big spaces, long routines or the performance of complex physical postures. It can be done standing or even sitting at the desk, on a chair at any time of the day. Easy to follow breathing techniques, pleasant stretches, short reflections and meditation time, can bring great benefits to almost anyone, regardless of gender, age, hierarchical position or shape.
Program implementation
In Yoga, as in many other disciplines, practices or sports, a good foundation is needed first to build a supportive framework. Discipline and perseverance are required along with dedication and patience. It is enough to start with small changes and build on them slowly, making progress overtime.
Patanjali, Yoga scholar and the author of the yoga sutras mentioned that Yoga should be continuously practised in order to achieve meaningful and lasting results.
This principle applies to almost everything we do in our daily lives, both physically and towards our inner self. On the bodily aspect, the response to physical activity includes important positive effects on the musculoskeletal, cardiovascular, respiratory, endocrine and immune systems; but the results are reversed if the activity is reduced, stopped, neglected or not promoted in the daily environment. With the cessation of the practice, physiological functions deteriorate substantially within 2 weeks and all gains are dissipated within 2 to 8 months.
As part of the implementation program, a Human Resources department would have the responsibility to allocate appropriate times schedules to maintain and increase the positive effects on the employee's practice with reminders sent to everyone to inform, encourage, promote and successfully achieve participation. Handouts could be distributed at each session, containing information about the practice and program details, listing the benefits and contraindications when applicable. Additional information can be made available to bring awareness, build interest and boost motivation among the practitioners.
The program can start with a weekly practice and over time build up or break down into daily, bi-weekly or weekly yoga practice, depending on the working environment, company structure, objectives and commitment to the implementation of the program.
Conclusion
We live a sedentary but fast-paced lifestyle that is causing our bodies to rapidly decline and our minds to feel overwhelmed and restless. People of all ages are experiencing a higher risk of premature death due to sedentarism and lack of mobility.
Traditionally, it was thought that most of the health-related benefits were only gained through vigorous exercises or physically demanding sports. When people think about health and wellness, they often select popular sports, getting into them not always paying attention on how to safely practice, care of intensity levels or considering if it's the right activity for them. Practices that sharply increase the heart rate, cause heavy sweat and make people lose their breath are often and mistakenly regarded as the more beneficial to human health, bringing a masked sense of satisfaction, influenced by social trends and the desire to have a specific body look. In choosing inadequate sports routines or practices people become exposed to injuries of different types, sometimes causing permanent damage to bones, joints, tissues or muscles that cause them to stop the training, triggering frustration and pain, both physical and emotional.
Unlike other activities, when Yoga is practised, there is always safe ways to practice it and it has a meaningful intention for it. Quoting the first sutra of Patanjali: "Atha Yoganushasanam: And now begins the practice of yoga", if there is an intention to practice Yoga, Yoga has begun already. Having the intention to care about physical and emotional human health is the first step and it is important to know how it can be this can be cultivated through the mindful practice of Yoga, holistically healing mind and body.
It takes courage, strength, discipline and support from others around to actually start positive changes in individuals and I am convinced that companies willing to promote wellness programs for their employees and implement them on a regular basis along with adequate legislation on occupational health and government initiatives, the efforts can promote overall social and individual wellbeing, where Yoga can have the potential to play a key role.
Sharing the gift of Yoga to those in the corporate world will promote shared social responsibility and can open a new approach towards the demands of daily office life, benefiting corporations through higher performance levels, illness reduction and prevention, a healthier work environment for everyone and overall happier and healthier employees.
 
Andrea Emilia Murillo Sánchez
Level I Yoga Teacher – and Himalaya Yoga Valley Intern
Andrea Murillo is a Mexican yogi who has been living in Asia for more than 12 years. A former corporate worker in Hong Kong, now she is a freelance Yoga instructor, passionately promoting yoga practices within the office environment and the HK expat community. You can follow Andrea and her quest for more yoga in the workplace on her Instagram page @k-town_yoga.
---
---
EXPLORE OUR CORPORATE MEMBERSHIP
Our team of dedicated yogis are here to help